Rugs for Any Style & Budget
We carry area rugs to suit any style, from corporate to cottage. Rugs tie your room design together and add character and colour.
Non-slip underlay is available for your new rug so it won't slide around and won't be visible.
New season? New rug!
Be bold and make a statement with a bright, printed rug. Or get a plushy rug that your feet will just sink right into. We can create a custom broadloom area rug for you out of anything we have on the racks, so go wild!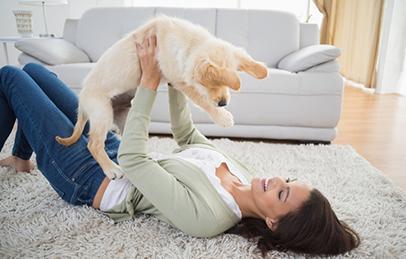 How to Measure
Measuring for a rug depends on the size of your room and furniture. You want your rug to look comfortable and "just right," not "chopped up and accidental."
If you want your rug to take up the whole room, a general rule is to leave at least 18 inches between the edge of the rug and the wall.
If you want a smaller rug, measure the size of the seating area and get the closest size up from that.
You can ask one of our Flooring Consultants for their expert advice on the right-size rug for your room.
AREA RUGS
- Character, Texture & Warmth -